The eScrip program provides a very easy way to give. When you sign up for eScrip, a percentage of your grocery loyalty cards, credit cards, and debit/ATM purchases are given to the school. 100% of the eScrip proceeds are deposited into the Charles Armstrong Parent School Organization (CAPSO) bank. This means that 100% of your eScrip contribution directly supports the classroom.
1. Sign Up
Click on: www.escrip.com
Click on: Group Coordinators
Group ID#: 137612735

Where does the money go? 100% of the eScrip contribution goes back to CAS. That's right; your child's teacher could be getting a classroom bonus to spend on our children.

2. eScrip Online Mall
For unregistered users, do your online shopping at 1000's of retailers and support CAS as well! Now anyone can help CAS earn up to 16% of your purchase when you shop through the eScrip Online Mall link here.
Click the link below and start giving!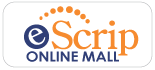 CAS teachers work magic in the classroom. Please help us give them more resources to do it.
Thank you!